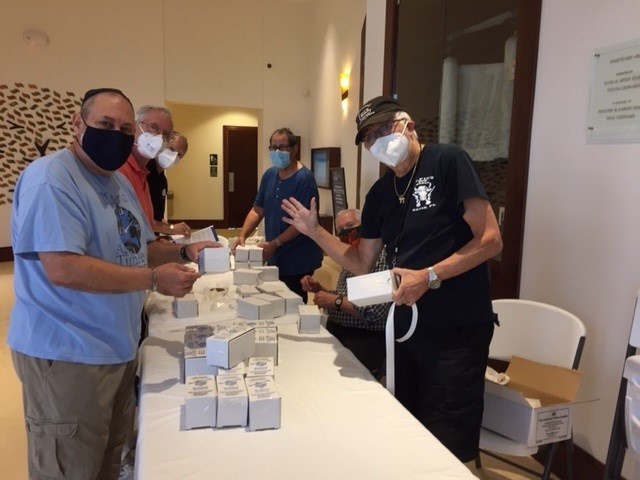 "We are more than a social organization. We are committed to working together with the entire congregation and the clergy to benefit the community, the temple, its members, and its youth."
The Men's Club welcomes men of all ages to share their many talents. TBTST MEN'S CLUB, affiliated with the Federation of Jewish Men's Club, is an active arm within our synagogue providing camaraderie, activities, events, and fellowship for men of all ages.
The Men's Club at TBTST has its basic goal to increase the connections both spiritual and social between the men in the TBTST family. In addition, it is our goal to create an atmosphere that encourages the interactions between the TBTST men and their children.
We are calling upon all temple men who would like to meet other men of TBTST who are making a difference at our synagogue. We invite you to experience the joy of participating. Come to any of our meetings, generally held the 3rd Thursday of each month, or to one of our events. Our monthly meeting gives us a chance to get to know each other, interact, and exchange ideas. We want to hear your idea!
Our members also plan to come together to enjoy social nights of fun, food, and friendship. It is a great way to get to know everyone and do some real good, socially, and culturally. The amount of time you spend with us, is entirely up to you, whether monthly or quarterly.
We promise you a year full of enriching experiences. On a more spiritual note, we have a Men's Club Shabbat once a year where we conduct the entire service. All men are invited and encouraged to participate in the service.
This is your organization to make your experience as a member of TBTST more fulfilling and fun. Be a part of our group of great people and contribute to the growth and prosperity of temple life. Not only do we use our money for these events, but also to sponsor TBTST programs, and to provide for youth scholarships.
For further information or to participate in upcoming events, please contact any of our members you personally know or contact TBTST Men's Club via email: mensclub@tbtst.orgrg
We look forward to meeting you!
Sun, December 10 2023
27 Kislev 5784
Upcoming events this week of

December

Mon

11

Chanukah

7:45am

Morning Minyan

6:00pm

Evening Minyan

Wed

13

Chanukah

Rosh Chodesh Tevet

7:45am

Morning Minyan

6:00pm

Evening Minyan

Thu

14

Chanukah

7:45am

Morning Minyan

6:00pm

Evening Minyan

Fri

15

Chanukah

7:45am

Morning Minyan

5:14pm

Candle Lighting

6:30pm

Shabbat Evening Services

Sat

16

Parshat Miketz

9:30am

Shabbat Morning Service

5:45pm

Evening Minyan

6:22pm

Havdalah
Sun, December 10 2023 27 Kislev 5784